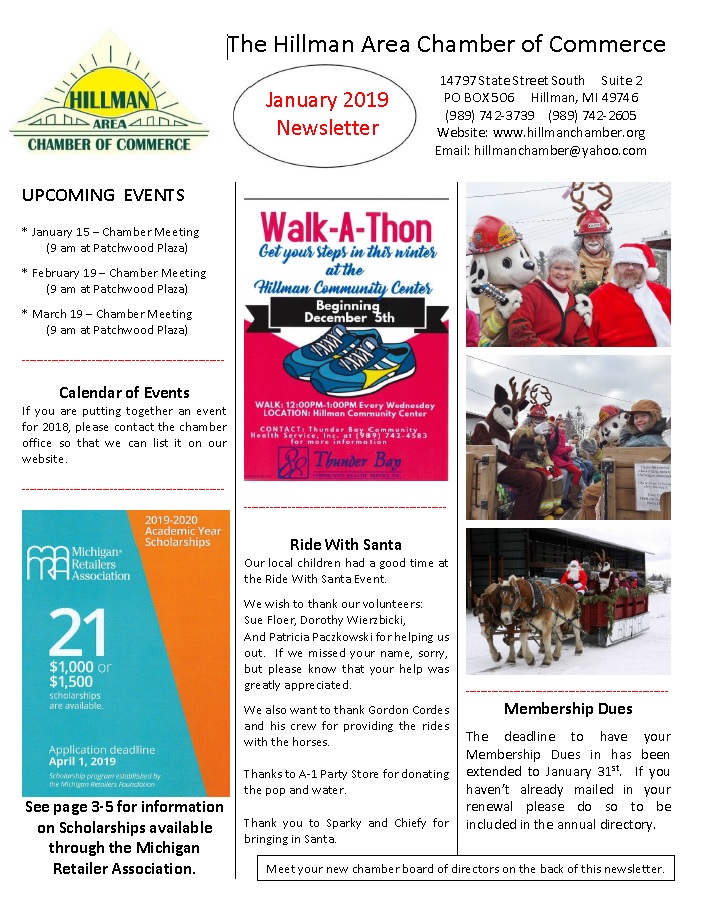 UPCOMING  EVENTS
* January 15 – Chamber Meeting  (9 am at Patchwood Plaza)
* February 19 – Chamber Meeting  (9 am at Patchwood Plaza)
* March 19 – Chamber Meeting  (9 am at Patchwood Plaza)
Calendar of Events
If you are putting together an event for 2019, please contact the chamber office so that we can list it on our website.
Scholarships
See page 3-5 for information on Scholarships available through the Michigan Retailer Association.
Ride With Santa
Our local children had a good time at the Ride With Santa Event.
We wish to thank our volunteers:
Sue Floer, Dorothy Wierzbicki,
And Patricia Paczkowski for helping us out.  If we missed your name, sorry, but please know that your help was greatly appreciated.
We also want to thank Gordon Cordes and his crew for providing the rides with the horses.
Thanks to A-1 Party Store for donating the pop and water.
Thank you to Sparky and Chiefy for bringing in Santa.
Membership Dues
The deadline to have your Membership Dues in has been extended to January 31st.  If you haven't already mailed in your renewal please do so to be included in the annual directory.
Meet your new Board for 2019
BOARD of directors for 2019
Jim Paczkowski SR             President                  Patchwood Products Inc.
Mark Sorensen                   Vice President         Sorensen's Grass Lake Resort
Jan Pankner                         Treasurer                  Hillman Lions Club
Brian Bartosh                      Secretary                  Top O' Michigan Insurance
TRUSTEES for 2019
Dave Post                             Trustee                      Village of Hillman, Hillman Community Radio
Mark Pankner                     Trustee                      Hillman Lions Club
Michaelle Cohoon              Trustee                      Thunder Bay Sanitation
Rick Schalkofski                  Trustee                      Community Financial Credit Union
Robin Chinavare                 Trustee                      MediLodge of Hillman
Sue Floer                              Trustee                      Brush Creek Mill, Hillman Community Radio
Share Us