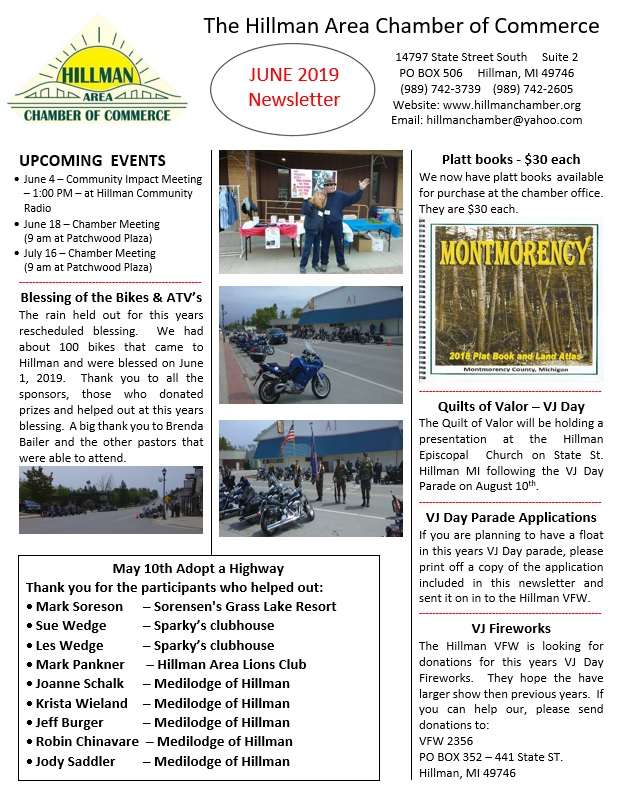 Blessing of the Bikes & ATV's
The rain held out for this years rescheduled blessing.  We had about 100 bikes that came to Hillman and were blessed on June 1, 2019.  Thank you to all the sponsors, those who donated prizes and helped out at this years blessing.  A big thank you to Brenda Bailer and the other pastors that were able to attend.
Platt books - $30 each
We now have platt books  available for purchase at the chamber office.  They are $30 each.
Quilts of Valor – VJ Day
The Quilt of Valor will be holding a presentation at the Hillman Episcopal  Church on State St. Hillman MI following the VJ Day Parade on August 10th.
VJ Day Parade Applications
If you are planning to have a float in this years VJ Day parade, please print off a copy of the application included in this newsletter and sent it on in to the Hillman VFW.
VJ Fireworks
The Hillman VFW is looking for donations for this years VJ Day Fireworks.  They hope the have  larger show then previous years.  If you can help our, please send donations to:
VFW 2356
PO BOX 352 – 441 State ST.
Hillman, MI 49746
May 10th Adopt a Highway
Thank you for the participants who helped out:
·  Mark Soreson      – Sorensen's Grass Lake Resort
·  Sue Wedge           – Sparky's clubhouse
·  Les Wedge            – Sparky's clubhouse
·  Mark Pankner     – Hillman Area Lions Club
·  Joanne Schalk      – Medilodge of Hillman
·  Krista Wieland    – Medilodge of Hillman
·  Jeff Burger            – Medilodge of Hillman
·  Robin Chinavare  – Medilodge of Hillman
·  Jody Saddler        – Medilodge of Hillman
Share Us