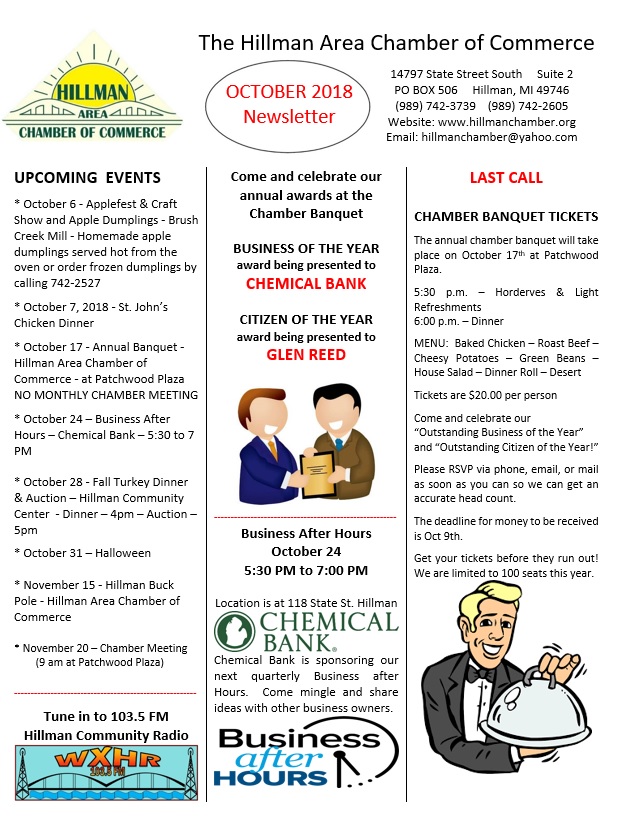 Tune in to 103.5 FM - Hillman Community Radio
Come and celebrate our annual awards at the Chamber Banquet
BUSINESS OF THE YEAR
award being presented to CHEMICAL BANK
CITIZEN OF THE YEAR
award being presented to
GLEN REED
Business After Hours
October 24
5:30 PM to 7:00 PM
Location is at 118 State St. Hillman
Chemical Bank is sponsoring our next quarterly Business after Hours. Come mingle and share ideas with other business owners.
LAST CALL - CHAMBER BANQUET TICKETS
The annual chamber banquet will take place on October 17th at Patchwood Plaza.
5:30 p.m. – Horderves & Light Refreshments
6:00 p.m. – Dinner
MENU: Baked Chicken – Roast Beef – Cheesy Potatoes – Green Beans – House Salad – Dinner Roll – Desert
Tickets are $20.00 per person
Come and celebrate our
"Outstanding Business of the Year"
and "Outstanding Citizen of the Year!"
Please RSVP via phone, email, or mail as soon as you can so we can get an accurate head count.
The deadline for money to be received is Oct 9th.
Get your tickets before they run out! We are limited to 100 seats this year.
Share Us