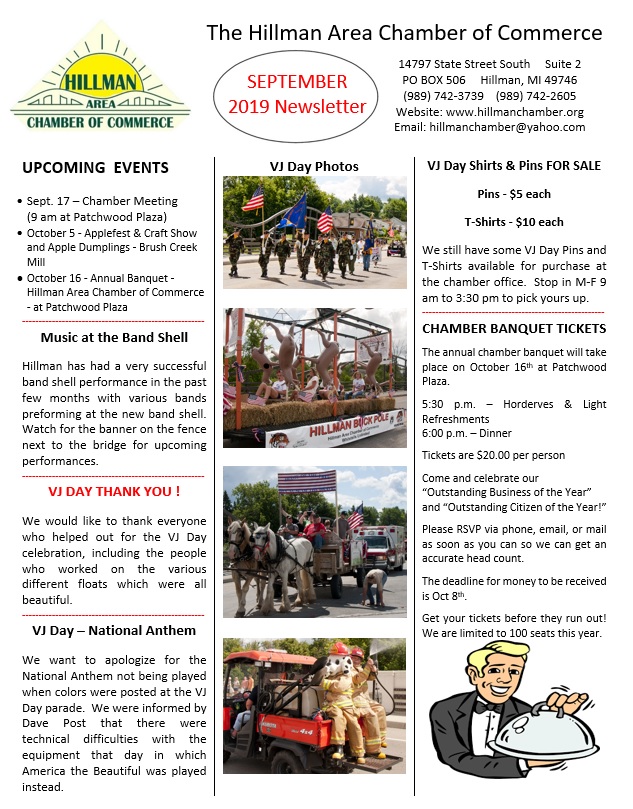 UPCOMING  EVENTS
17 – Chamber Meeting
(9 am at Patchwood Plaza)
October 5 - Applefest & Craft Show and Apple Dumplings - Brush Creek Mill
October 16 - Annual Banquet - Hillman Area Chamber of Commerce - at Patchwood Plaza
Music at the Band Shell
Hillman has had a very successful band shell performance in the past few months with various bands preforming at the new band shell.  Watch for the banner on the fence next to the bridge for upcoming performances.
VJ DAY THANK YOU !
We would like to thank everyone who helped out for the VJ Day celebration, including the people who worked on the various different floats which were all beautiful.
VJ Day – National Anthem
We want to apologize for the National Anthem not being played when colors were posted at the VJ Day parade.  We were informed by Dave Post that there were technical difficulties with the equipment that day in which America the Beautiful was played instead.
VJ Day Shirts & Pins FOR SALE
Pins - $5 each
T-Shirts - $10 each
We still have some VJ Day Pins and T-Shirts available for purchase at the chamber office.  Stop in M-F 9 am to 3:30 pm to pick yours up.
CHAMBER BANQUET TICKETS
The annual chamber banquet will take place on October 16th at Patchwood Plaza.
5:30 p.m. – Horderves & Light Refreshments
6:00 p.m. – Dinner
Tickets are $20.00 per person
Come and celebrate our
"Outstanding Business of the Year"
and "Outstanding Citizen of the Year!"
Please RSVP via phone, email, or mail as soon as you can so we can get an accurate head count.
The deadline for money to be received is Oct 8th.
Get your tickets before they run out!  We are limited to 100 seats this year.
Share Us