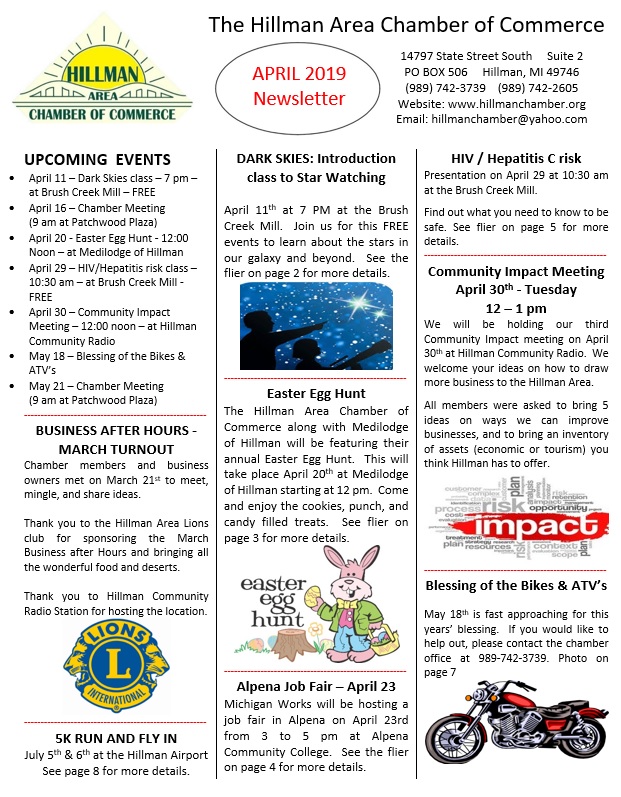 BUSINESS AFTER HOURS - MARCH TURNOUT
Chamber members and business owners met on March 21st to meet,  mingle, and share ideas.
Thank you to the Hillman Area Lions club for sponsoring the March Business after Hours and bringing all the wonderful food and deserts.
Thank you to Hillman Community Radio Station for hosting the location.
5K RUN AND FLY IN
July 5th & 6th at the Hillman Airport
See page 8 for more details.
DARK SKIES: Introduction class to Star Watching
April 11th at 7 PM at the Brush Creek Mill.  Join us for this FREE events to learn about the stars in our galaxy and beyond.  See the flier on page 2 for more details.
Easter Egg Hunt
The Hillman Area Chamber of Commerce along with Medilodge of Hillman will be featuring their annual Easter Egg Hunt.  This will take place April 20th at Medilodge of Hillman starting at 12 pm.  Come and enjoy the cookies, punch, and candy filled treats.  See flier on page 3 for more details.
Alpena Job Fair – April 23
Michigan Works will be hosting a job fair in Alpena on April 23rd from 3 to 5 pm at Alpena Community College.  See the flier on page 4 for more details.
HIV / Hepatitis C risk
Presentation on April 29 at 10:30 am  at the Brush Creek Mill.
Find out what you need to know to be safe. See flier on page 5 for more details.
Community Impact Meeting
April 30th - Tuesday
12 – 1 pm
We will be holding our third Community Impact meeting on April 30th at Hillman Community Radio.  We welcome your ideas on how to draw more business to the Hillman Area.
All members were asked to bring 5 ideas on ways we can improve businesses, and to bring an inventory of assets (economic or tourism) you think Hillman has to offer.
Blessing of the Bikes & ATV's
May 18th is fast approaching for this years' blessing.  If you would like to help out, please contact the chamber office at 989-742-3739. Photo on   page 7
Share Us