Join us for Acronym Soup! We're bringing the SBA, MEDC, MDARD and Lake Huron's SBDC teams together to bring you up to date on all their programs and current events. Register today by 3 PM if you want to enjoy a free lunch!
May 16, 2023 – 1100 AM – 130 PM
University Center Gaylord,
80 Livingston Blvd. Gaylord, MI 49735
The SBDC will explain all our support services that you can pass on to your client – and our services are paid in full – no charges to your clients.
SBA will review their Community Advantage and 504 lending programs.
MEDC will present their Community and Business Development Programs.
The USDA will present their RD Programs to assist small businesses.
In addition, we will provide you with lunch all at no cost. Please see the attachment for additional information or go to the link below to register -
We have limited space, please register as soon as possible. If you would like lunch, please register by 300 PM on May 9th, 2023.or space and food a
Register Link below - please RSVP by May 10 @ 3M
Thank you for your partnership.
Mike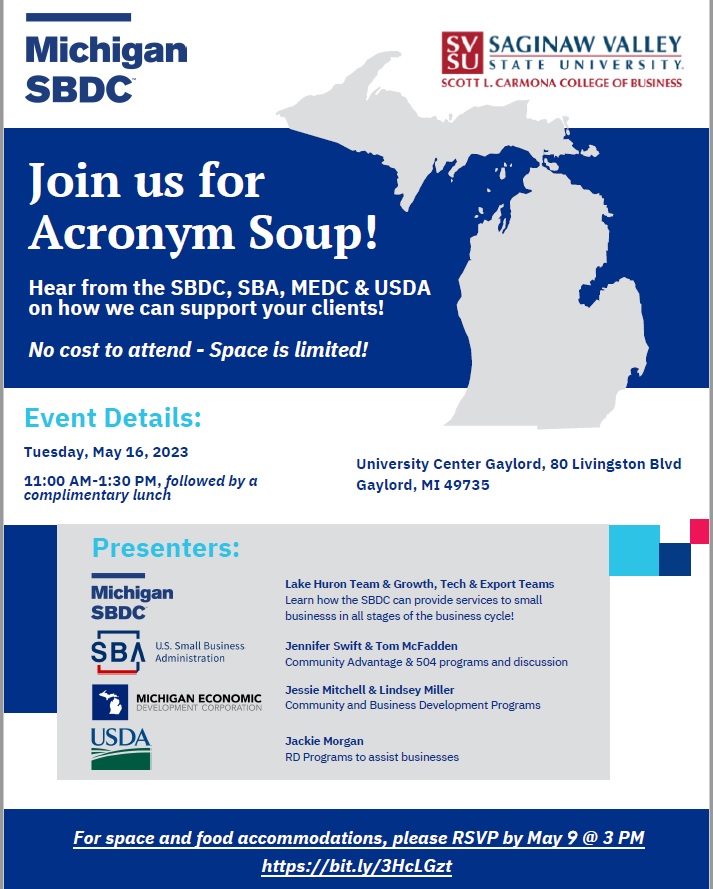 Share Us