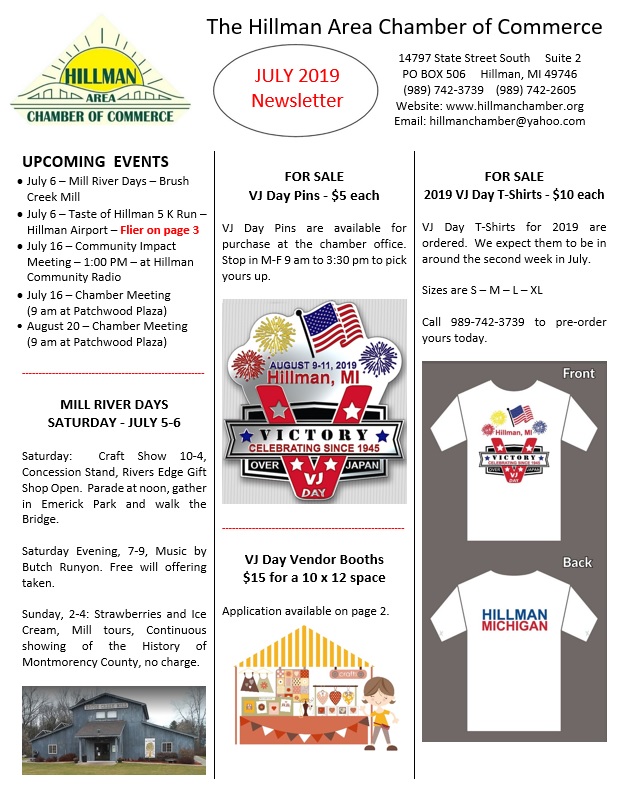 UPCOMING  EVENTS
July 6 – Mill River Days – Brush Creek Mill
July 6 – Taste of Hillman 5 K Run – Hillman Airport – Flier on page 3
July 16 – Community Impact Meeting – 1:00 PM – at Hillman Community Radio
July 16 – Chamber Meeting
(9 am at Patchwood Plaza)
August 20 – Chamber Meeting
(9 am at Patchwood Plaza)
MILL RIVER DAYS
SATURDAY - JULY 5-6
Saturday:  Craft Show 10-4, Concession Stand, Rivers Edge Gift Shop Open.  Parade at noon, gather in Emerick Park and walk the Bridge.
Saturday Evening, 7-9, Music by Butch Runyon. Free will offering taken.
Sunday, 2-4: Strawberries and Ice Cream, Mill tours, Continuous showing of the History of Montmorency County, no charge.
FOR SALE - VJ Day Pins - $5 each
VJ Day Pins are available for purchase at the chamber office.  Stop in M-F 9 am to 3:30 pm to pick yours up.
 VJ Day Vendor Booths
$15 for a 10 x 12 space
Application available on page 2.
FOR SALE - 2019 VJ Day T-Shirts - $10 each
VJ Day T-Shirts for 2019 are ordered.  We expect them to be in around the second week in July.
Sizes are S – M – L – XL
Call 989-742-3739 to pre-order yours today.
Share Us