The March issue of the chamber newsletter is out.  Check it out below.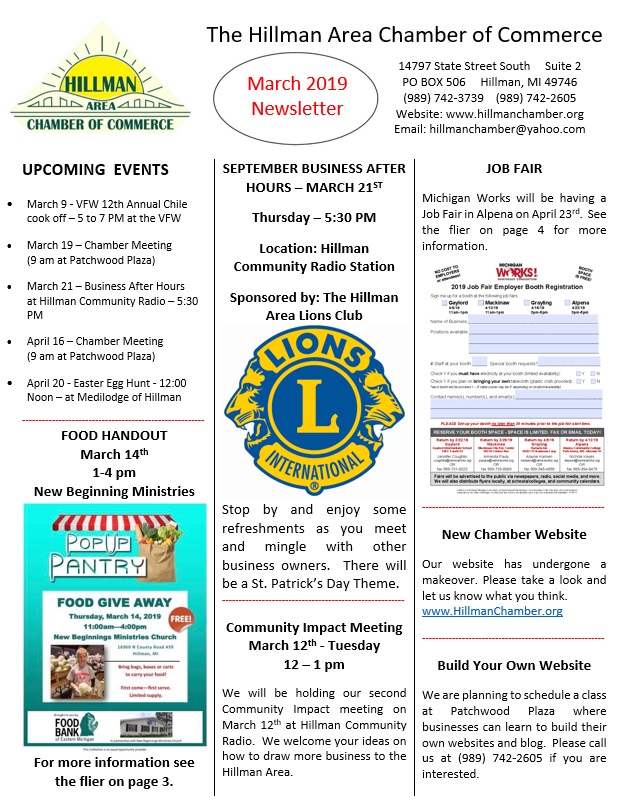 UPCOMING  EVENTS
March 9 - VFW 12th Annual Chile cook off – 5 to 7 PM at the VFW
March 19 – Chamber Meeting (9 am at Patchwood Plaza)
March 21 – Business After Hours at Hillman Community Radio – 5:30 PM
April 16 – Chamber Meeting (9 am at Patchwood Plaza)
April 20 - Easter Egg Hunt - 12:00 Noon – at Medilodge of Hillman
FOOD HANDOUT
March 14th
1-4 pm
New Beginning Ministries
For more information see the flier on page 3.

SEPTEMBER BUSINESS AFTER HOURS – MARCH 21ST
Thursday – 5:30 PM
Location: Hillman Community Radio Station
Sponsored by: The Hillman Area Lions Club 
Stop by and enjoy some refreshments as you meet and mingle with other business owners.  There will be a St. Patrick's Day Theme.
Community Impact Meeting
March 12th - Tuesday
12 – 1 pm 
We will be holding our second Community Impact meeting on March 12th at Hillman Community Radio.  We welcome your ideas on how to draw more business to the Hillman Area.
JOB FAIR
Michigan Works will be having a Job Fair in Alpena on April 23rd.  See the flier on page 4 for more information.
New Chamber Website
Our website has undergone a makeover. Please take a look and let us know what you think.
Build Your Own Website
We are planning to schedule a class at Patchwood Plaza where businesses can learn to build their own websites and blog.  Please call us at (989) 742-2605 if you are interested.
Share Us