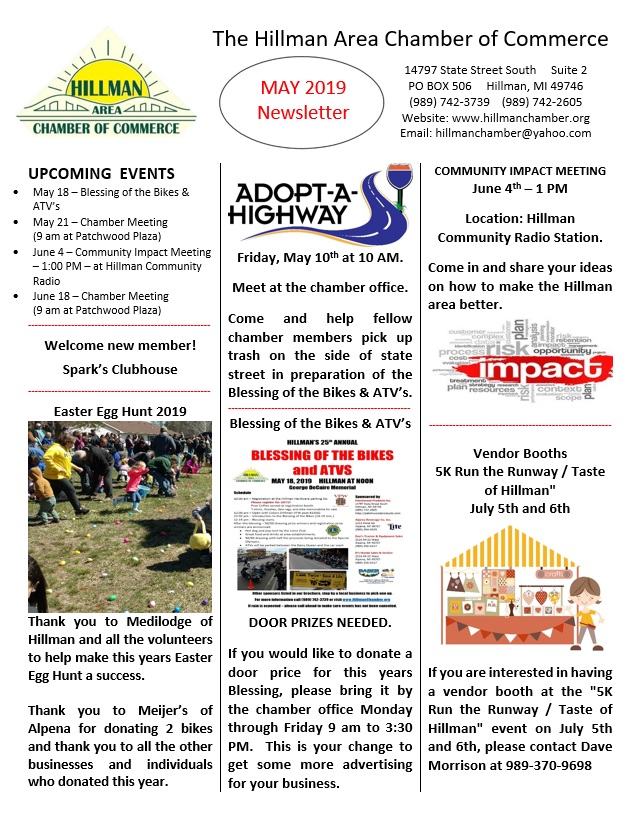 Welcome new member!
Spark's Clubhouse
Easter Egg Hunt 2019
Thank you to Medilodge of Hillman and all the volunteers to help make this years Easter Egg Hunt a success.
Thank you to Meijer's of Alpena for donating 2 bikes and thank you to all the other businesses and individuals who donated this year.
Adopt-A-Highway Pickup
Friday, May 10th at 10 AM. 
 Meet at the chamber office.
Come and help fellow chamber members pick up trash on the side of state street in preparation of the Blessing of the Bikes & ATV's.
Blessing of the Bikes & ATV's
DOOR PRIZES NEEDED.
If you would like to donate a door price for this years Blessing, please bring it by the chamber office Monday through Friday 9 am to 3:30 PM.  This is your change to get some more advertising for your business.
COMMUNITY IMPACT MEETING
June 4th – 1 PM
Location: Hillman Community Radio Station.
Come in and share your ideas on how to make the Hillman area better.
Vendor Booths - 5K Run the Runway / Taste of Hillman"
July 5th and 6th
If you are interested in having a vendor booth at the "5K Run the Runway / Taste of Hillman" event on July 5th and 6th, please contact Dave Morrison at 989-370-9698
Share Us