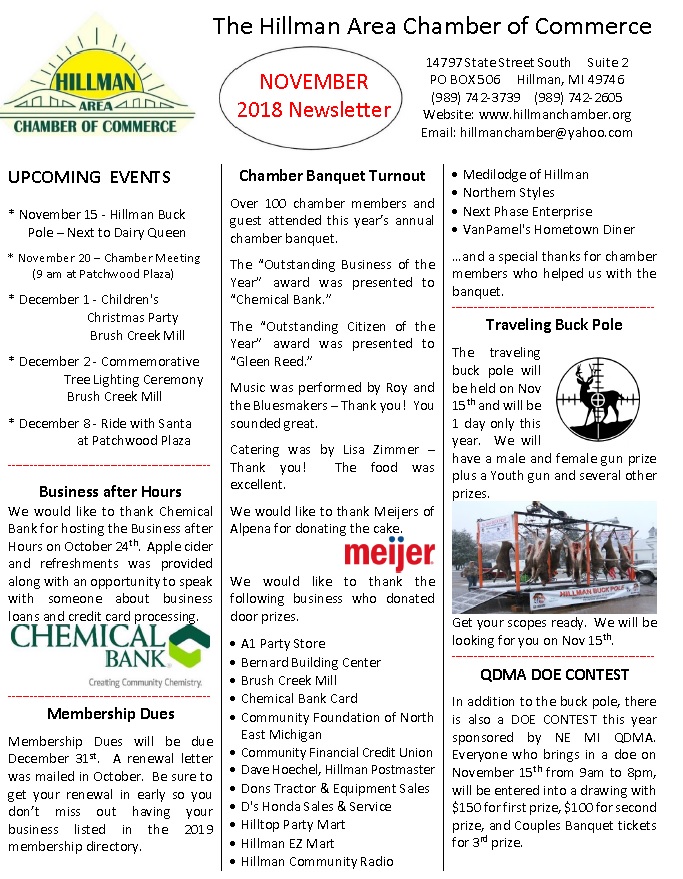 Business after Hours
We would like to thank Chemical Bank for hosting the Business after Hours on October 24th. Apple cider and refreshments was provided along with an opportunity to speak with someone about business loans and credit card processing.
Membership Dues
Membership Dues will be due December 31st. A renewal letter was mailed in October. Be sure to get your renewal in early so you don't miss out having your business listed in the 2019 membership directory.
Chamber Banquet Turnout
Over 100 chamber members and guest attended this year's annual chamber banquet.
The "Outstanding Business of the Year" award was presented to "Chemical Bank."
The "Outstanding Citizen of the Year" award was presented to "Gleen Reed."
Music was performed by Roy and the Bluesmakers – Thank you! You sounded great.
Catering was by Lisa Zimmer – Thank you! The food was excellent.
We would like to thank Meijers of Alpena for donating the cake.
We would like to thank the following business who donated door prizes.
• A1 Party Store
• Bernard Building Center
• Brush Creek Mill
• Chemical Bank Card
• Community Foundation of North East Michigan
• Community Financial Credit Union
• Dave Hoechel, Hillman Postmaster
• Dons Tractor & Equipment Sales
• D's Honda Sales & Service
• Hilltop Party Mart
• Hillman EZ Mart
• Hillman Community Radio
• Medilodge of Hillman
• Northern Styles
• Next Phase Enterprise
• VanPamel's Hometown Diner
…and a special thanks for chamber members who helped us with the banquet.
Traveling Buck Pole
The traveling buck pole will be held on Nov 15th and will be 1 day only this year. We will have a male and female gun prize plus a Youth gun and several other prizes.
Get your scopes ready. We will be looking for you on Nov 15th.
QDMA DOE CONTEST
In addition to the buck pole, there is also a DOE CONTEST this year sponsored by NE MI QDMA. Everyone who brings in a doe on November 15th from 9am to 8pm, will be entered into a drawing with $150 for first prize, $100 for second prize, and Couples Banquet tickets for 3rd prize.
Share Us