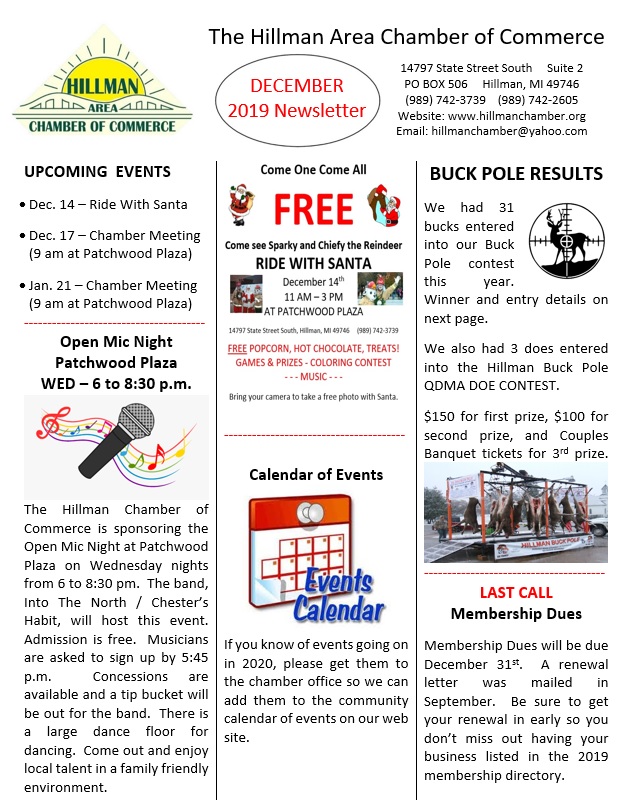 UPCOMING  EVENTS
14 – Ride With Santa
17 – Chamber Meeting
(9 am at Patchwood Plaza)
21 – Chamber Meeting
(9 am at Patchwood Plaza)
Open Mic Night - Patchwood Plaza
WED – 6 to 8:30 p.m.
The Hillman Chamber of Commerce is sponsoring the Open Mic Night at Patchwood Plaza on Wednesday nights from 6 to 8:30 pm.  The band, Into The North / Chester's Habit, will host this event.  Admission is free.  Musicians are asked to sign up by 5:45 p.m.  Concessions are available and a tip bucket will be out for the band.  There is a large dance floor for dancing.  Come out and enjoy local talent in a family friendly environment.
Calendar of Events
If you know of events going on in 2020, please get them to the chamber office so we can add them to the community calendar of events on our web site.
BUCK POLE RESULTS
We had 31 bucks entered into our Buck Pole contest this year.  Winner and entry details on next page.
We also had 3 does entered into the Hillman Buck Pole QDMA DOE CONTEST.
$150 for first prize, $100 for second prize, and Couples Banquet tickets for 3rd prize.
LAST CALL - Membership Dues
Membership Dues will be due December 31st.  A renewal letter was mailed in September.  Be sure to get your renewal in early so you don't miss out having your business listed in the 2019 membership directory.
Share Us