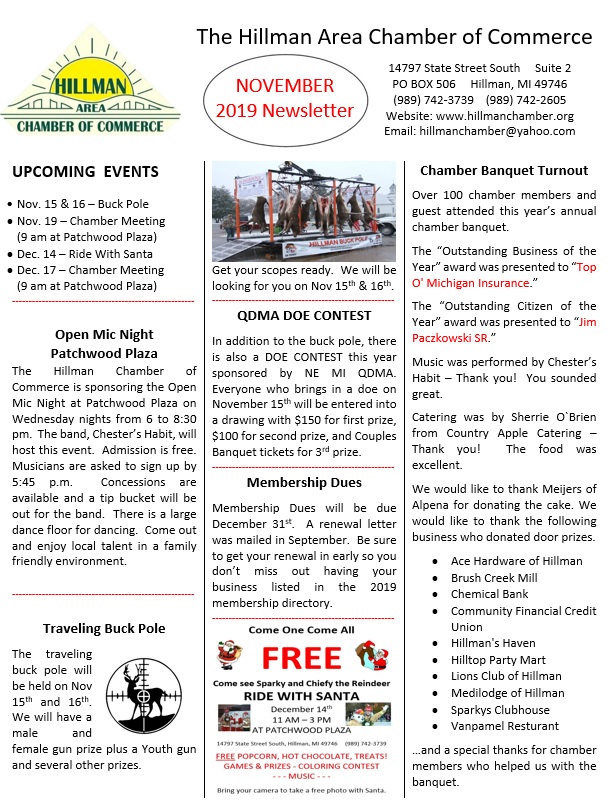 UPCOMING  EVENTS
15 & 16 – Buck Pole
19 – Chamber Meeting
(9 am at Patchwood Plaza)
14 – Ride With Santa
17 – Chamber Meeting
(9 am at Patchwood Plaza)
 Open Mic Night
Patchwood Plaza
The Hillman Chamber of Commerce is sponsoring the Open Mic Night at Patchwood Plaza on Wednesday nights from 6 to 8:30 pm.  The band, Chester's Habit, will host this event.  Admission is free.  Musicians are asked to sign up by 5:45 p.m.  Concessions are available and a tip bucket will be out for the band.  There is a large dance floor for dancing.  Come out and enjoy local talent in a family friendly environment. 
Traveling Buck Pole
The traveling buck pole will be held on Nov 15th and 16th.  We will have a male and female gun prize plus a Youth gun and several other prizes.
Get your scopes ready.  We will be looking for you on Nov 15th & 16th.
QDMA DOE CONTEST
In addition to the buck pole, there is also a DOE CONTEST this year sponsored by NE MI QDMA.  Everyone who brings in a doe on November 15th will be entered into a drawing with $150 for first prize, $100 for second prize, and Couples Banquet tickets for 3rd prize.
Membership Dues
Membership Dues will be due December 31st.  A renewal letter was mailed in September.  Be sure to get your renewal in early so you don't miss out having your business listed in the 2019 membership directory.
Chamber Banquet Turnout
Over 100 chamber members and guest attended this year's annual chamber banquet.
The "Outstanding Business of the Year" award was presented to "Top O' Michigan Insurance."
The "Outstanding Citizen of the Year" award was presented to "Jim Paczkowski SR."
Music was performed by Chester's Habit – Thank you!  You sounded great.
Catering was by Sherrie O`Brien from Country Apple Catering – Thank you!  The food was excellent.
We would like to thank Meijers of Alpena for donating the cake. We would like to thank the following business who donated door prizes.
Ace Hardware of Hillman
Brush Creek Mill
Chemical Bank
Community Financial Credit Union
Hillman's Haven
Hilltop Party Mart
Lions Club of Hillman
Medilodge of Hillman
Sparkys Clubhouse
Vanpamel Resturant
…and a special thanks for chamber members who helped us with the banquet.
Share Us