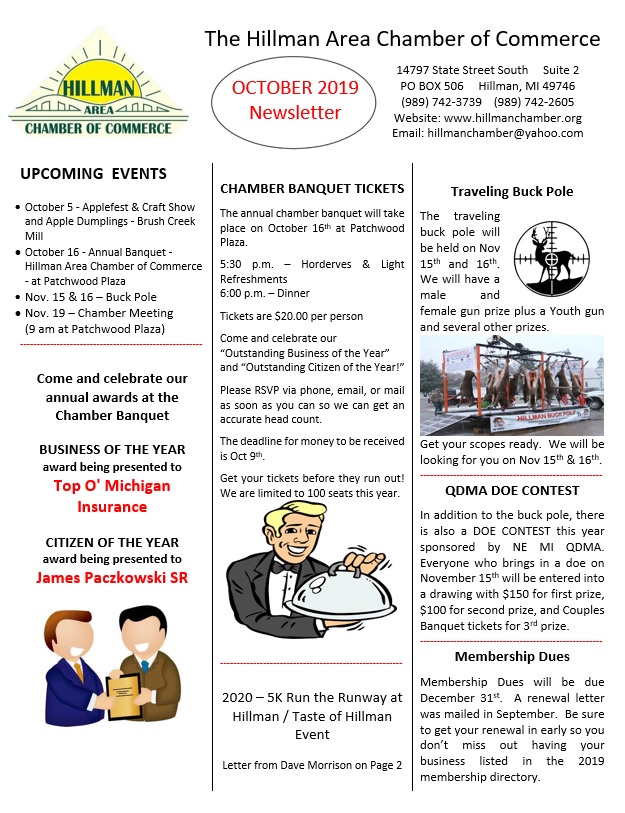 UPCOMING  EVENTS
October 5 - Applefest & Craft Show and Apple Dumplings - Brush Creek Mill
October 16 - Annual Banquet - Hillman Area Chamber of Commerce - at Patchwood Plaza
15 & 16 – Buck Pole
19 – Chamber Meeting
(9 am at Patchwood Plaza)
Come and celebrate our annual awards at the Chamber Banquet
BUSINESS OF THE YEAR award being presented to Top O' Michigan Insurance
 CITIZEN OF THE YEAR award being presented to James Paczkowski SR
CHAMBER BANQUET TICKETS
The annual chamber banquet will take place on October 16th at Patchwood Plaza.
5:30 p.m. – Horderves & Light Refreshments
6:00 p.m. – Dinner
Tickets are $20.00 per person
Come and celebrate our
"Outstanding Business of the Year"
and "Outstanding Citizen of the Year!"
Please RSVP via phone, email, or mail as soon as you can so we can get an accurate head count.
The deadline for money to be received is Oct 9th.
Get your tickets before they run out!  We are limited to 100 seats this year.
Traveling Buck Pole
The traveling buck pole will be held on Nov 15th and 16th.  We will have a male and female gun prize plus a Youth gun and several other prizes.
Get your scopes ready.  We will be looking for you on Nov 15th & 16th.
QDMA DOE CONTEST
In addition to the buck pole, there is also a DOE CONTEST this year sponsored by NE MI QDMA.  Everyone who brings in a doe on November 15th will be entered into a drawing with $150 for first prize, $100 for second prize, and Couples Banquet tickets for 3rd prize.
Membership Dues
Membership Dues will be due December 31st.  A renewal letter was mailed in September.  Be sure to get your renewal in early so you don't miss out having your business listed in the 2019 membership directory.
2020 – 5K Run the Runway at Hillman / Taste of Hillman Event
Message from Dave Morrison Special Events, Event Coordinator Dave Morrison
I would like to let the Local Communities know that I will NOT be hosting a 5K Run the Runway at Hillman / Taste of Hillman Even this year, most in part due to personal health reasons.   I would like to encourage someone else in the community or some organization to step up and host this next year's event.  Last year's event was a very successful event and mostly attended by people visiting the local areas (mainly people enjoying time at the local lakes).   These are the people that the community of Hillman needs to reach out to in order to help grow their businesses. I would like to say "Thank You" to all of the individuals that helped make last year's event so successful.
The 5K Run the Runway attracted over 100 runners, many traveled from around the United States to attend.  The overall event saw between 500 to 600 people many whom enjoyed the Arts and Crafts and the Taste of Hillman, featuring some of our local restaurants.    The restaurants representing Hillman were; Thunder Bay Resort, Highway Inn, Jack's Landing Resort and Chauncey's Pub / Hillman Dairy Queen.    Each of them did an outstanding job and enjoyed a profitable day.  The food offerings were fantastic.
The overall event was able to provide its benefactor, Wings of Mercy East Michigan with a check in the amount of $ 3,000 for their future Life
Saving flying missions.
I feel that "The Village of Hillman" and surrounding communities need an event like this to help keep visitors connected to our community and help it prosper.
Sincerely,   Dave Morrison
Share Us